Simulation des Systèmes d'Information des Smart Grids - Une approche par points de vue
We propose to simulate the Information Systems of Smart Grids to validate / criticize the modeling choices of domain experts. We propose a viewpoint based approach regarding two aspects : information and dynamics. We add an integration viewpoint to maintain consistency and we use Model Driven Engineering techniques. Finally, we experience our approach on a Smart Grid use case.
Nous proposons de simuler les Systèmes d'Information des Smart Grids afin de vali-der/critiquer les choix de modélisation des experts métier. Nous proposons une approche par points de vue selon deux aspects information et dynamique tout en ajoutant un point de vue inté-gration pour le maintien de cohérence. Nous mettons à contribution les techniques l'Ingénierie Dirigée par les Modèles, en particulier la transformation de modèle. Enfin, nous éprouvons notre démarche sur un cas métier Smart Grid.
Fichier principal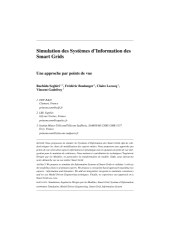 2015_Inforsid.pdf (370.97 Ko)
Télécharger le fichier
Origin : Files produced by the author(s)